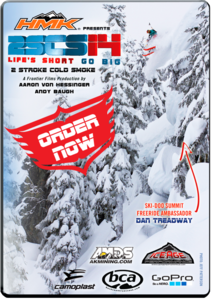 $

29.95
2SCS14 LIFES SHORT GO BIG

Old Man Winter Slams the Mountains of British Columbia, Canada blanketing the terrain with the deepest snow Frontier Films cameras have ever seen.
This Adventure Snowmobile Film takes the viewers into the famed Steep and Deep of Revelstoke, BC and then to the endless riding zones surrounding the Olympic Village of Whistler Canada. Capturing sledders hammering the throttle like never before creates an epic journey in this film. The record deep powder day riding are what dreams are made of. Pro riders slashing, whipping, climbing, dropping and crashing make this film inspirational to watch. Segments from Alaska and Sweden showcase unique riding skills from top name riders in the industry.
Starring Ski-doo Summit Freeride Ambassador Dan Treadway who gets the films DVD cover shot with his powder free fall of incredible heights. Also starring Geoff Kyle, Rob Alford, Rob Hoff, Cory Davis, Dan Phillips, KJ, Ross Mercer, Clayton Thomas, Rob Hoff, Kyle Armbrust, Tyler Blair, female sensation Ashley Chafffin and the famed Yukon Summit Savages.
This Film was shot entirely in HD. Including amazing on board action captured from Go Pro camera systems. These shots give you the feel of riding with these pros. Edited to a diverse soundtrack. Running length +/- 45 minutes. Fun viewing for the entire family.